If you wear dentures, you know that loose or ill-fitting dentures can be a nightmare. At Sorrento Dental Care, we work with our patients to ensure that their dentures fit and function properly. Whether you have full or partial dentures, we can help you!
Implant-Supported Dentures
Traditional dentures simply rest on top of the gums, held in place by denture paste. Traditional dentures present numerous challenges: they are difficult to insert and remove; and they are not stable, and can loosen while chewing or speaking. Additionally, since they are not attached to the jaw, often denture-wearers suffer from decreasing bone density.
However, there is an alternative! We can place several dental implants (right here in our Pensacola office!) into the jaw, and either permanently affix your dentures, or fabricate "snap-on" dentures that lock into place on top of the dental implants, holding them in place, while also allowing them to be easily removed.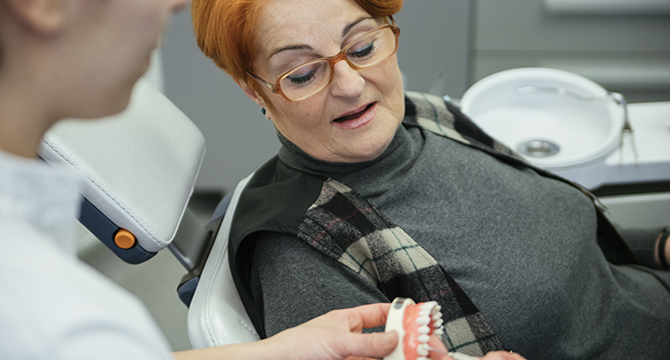 Advantages of Dentures Supported by Dental Implants
Implant-supported dentures are much less likely to come loose. No more worrying while talking or eating in public!
Implant-supported dentures look much more natural, and even feel just like natural teeth because they are held securely in place!
Patients with implant-supported dentures are much less likely to develop sores in their mouths due to irritation, since the dentures remain in place.
Dentures secured by dental implants help you speak more clearly, eliminating the slurred speech and clicking noises that are common with traditional dentures.
Denture adhesives are no longer required!
What If I've Suffered Bone Loss Already?
If you've been wearing dentures for many years, there's a chance you've lost too much bone density to be a good candidate for traditional dental implants. However, we also place mini-dental implants, which function just like regular dental implants, but are about 50% smaller. These "miniature" dental implants are perfect for patients whose bone density is unsuitable for full-size dental implants.
If you're unhappy with your current dentures and are looking for a dentist in Pensacola, Florida who can help, give us a call to see whether there is a better option. At your appointment, we can answer all the questions you may have, and present several options to ensure a result you're happy with. Call us at (850) 492-7647 to schedule!
What our patients say
The staff is friendly and professional. They're on top of things and make rescheduling very easy.
Patient of Sorrento Dental Care, Google Reviews
Great experience with caring professionals. I moved from central Florida and finding a new dental practice that measures up to what I had seemed to be a daunting task. Not so with Sorrento Dental. All the staff is so friendly and helpful. A traveling hygienist was filling in today for my regular cleaning and she was awesome — friendly, knowledgeable and such a great personality. If you need good dental care I highly recommend Sorrento Dental.
Patient of Sorrento Dental Care, Google Reviews
Mrs. Christina W at Sorrento Dental Care is one of the kindest souls I have ever had the privilege of meeting.  Right from the beginning I could tell that she prioritized my well-being over everything. She did all that she could to help myself and my family financially, and to make sure I was comfortable and happy with the outcome. She is one of the absolute sweetest and most caring people I have met. I can't even begin to describe how grateful I am for Mrs. Christina, Dr. Rowe, and the entire Sorrento staff. Every staff member is professional and friendly, and I will never recommend another dentist.
Patient of Sorrento Dental Care, Google Reviews